Polaris Blue was founded in 2004 in order to 'demystify' the process of building profitable web initiatives for business. We do this by providing astute strategic insights with quality web development that provide a measurable commercial benefit for our clients.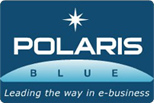 We have found that many industry competitors take advantage of the lack of knowledge that their clients have regarding the web, and use that as an opportunity to charge excessively high prices with very little business reasoning. This is where Polaris Blue is different.
We provide world class, big agency results…
at affordable and highly competitive rates.
We value our clients and their business as highly as they do. For us its about a personal relationship with our clients. No job is too big… or too small.