As a requirement to minimize the impact of change within an organization when developing new business tools, it is often necessary for new IT and/or web systems to "talk to" the older and existing systems that a company uses within its daily operations.
We have Strong experience in analyzing and understanding the technical infrastructure used by companies.
We can integrate any new IT/web development into systems.

This is done to allow for all of the information and activity generated and recorded by the organization through its lifespan, to be leveraged and utilized effectively, as and where possible.
Web development integration includes –

Identifying areas of business process inefficiencies.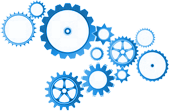 Re-engineering these structures where required.

"Tapping into" current business rules and processes, to immediately expedite.
An Integrated Approach
Polaris Blue subscribes to the view that both offline marketing and web development/online initiatives occur as a seamless component to all other parts of business. This means that we work with our clients to build full-scale marketing, communications and web arms to their businesses that achieve the following:
Build a comprehensive and consistent brand plan for our clients
Manage the corporate image of the client and its business, products and services, to build brand recognition and loyalty
Streamline operations by assisting our clients to effectively implement "cloud computing" strategies.
Increase sales channels
Implement and track customer acquisition and retention strategies
Encourage product usage
Build the company brand in the online and offline environments
Maximize exposure of the company brand and its products/services at all levels
Simplify and extend the channels with which prospective customers may engage in business transactions with you.
Integrate the business rules and processes of the company, where possible, into consolidated, automated web-based functions.