Content Management Systems (CMS)
CMS is a web-based tool that allows a site owner the opportunity to manage and update the content and images within their website/system remotely (i.e. from their own computer through the internet) that is easy to use and non-technical.
As well as giving the system owner great flexibility in order to keep their site content, product information/pricing and imagery always updated, this type of application is vital to set the stage for more complex supply-chain management system integration in further phases of development. The Polaris Blue CMS systems are built entirely on enterprise-grade database, to allow extremely powerful and comprehensive management of content by the owners of websites.

Add Content

Edit Content

Delete Content

Publish Content
By simply "logging in" to an admin section of the site, the site owner may add, edit or delete any elements, images and/or pages within their site.
Such content management by the site owner can occur at any time (24/7) and the number and extent of content edits is unlimited.
There is absolutely NO charge for editing and updating content.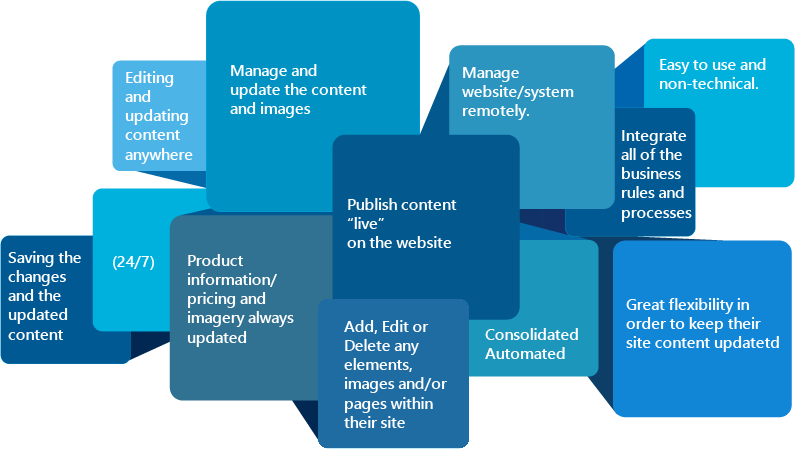 The process for content management is extremely simple and comprises of a site owner/user:
Entering the admin section of the site
Selecting the page the user wishes to edit
Making the necessary changes to the content, including adding, editing or deleting images and information
Saving the changes and the updated content
Once these steps have been followed, the new content is published "live" on the website.
Integrate all of the business rules and processes of the company into a consolidated, automated web-based function
If required, Polaris Blue also offers higher end CMS functions such as user access & privilege management, split-authoring environments, and brand styling templates that can be selected and used within the system at will.